October 23, 2017
IN THIS ISSUE
OTHER SECURITIES CAN AFFECT YOUR MODEL – MORE THAN YOU THINK
THE TECH SUPPORT SECRET IS OUT!
OTHER SECURITIES CAN AFFECT YOUR MODEL – MORE THAN YOU THINK
If you look at a particular market sector, you'll discover that different companies perform a variety of functions within the sector. For example, look at some of the most frequently traded gold stocks, and you'll find companies that locate, mine or process raw materials.  Price changes in those underlying stocks may signal a move in a consolidated gold fund.  You can use that information to build a more responsive prediction model.
We tested this theory by creating a prediction model for SPDR Gold Shares (GLD), a fund developed by State Street Global Advisors. We based the prediction on some of our favorite indicators from the Price Momentum Category: Average Directional Movement (ADX) and Relative Strength Index (RSI) which were calculated using GLD price data.  That prediction appears at the bottom of the chart below, with an equity curve outlined in blue.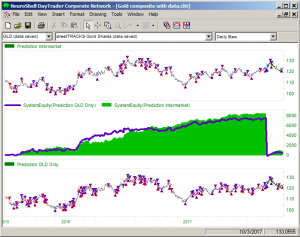 The intermarket model appears at the top of the chart.
We created a second prediction that incorporated the original prediction inputs and added the Momentum and Money Flow Index indicators which were calculated with Barrick Gold (ADX) data.  Barrick Gold is a Canadian based company that is the largest gold mining company in the world.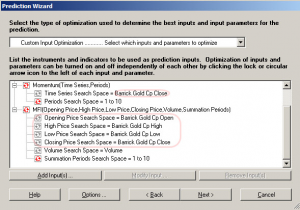 Note that we substituted Barrick Gold prices when we added the Momentum and Money Flow Index indicators to the original prediction inputs.
This intermarket model produced an out-of-sample net profit of $859 compared to $440 for the original prediction.
We developed a similar Forex model using other currency pairs as inputs to the prediction in addition to standard technical indicators.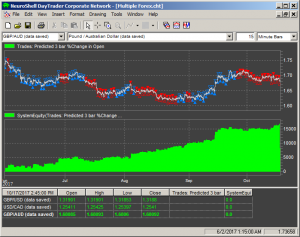 This chart displays the results for an intermarket Forex prediction.
Click here
to download the charts that appear in this article.
THE TECH SUPPORT SECRET IS OUT!
ANSWER YOUR QUESTIONS FAST
Check out our NEW tech support website at
nstsupport.wardsystemsgroup.com
NeuroShell Trader is a complex piece of software, but that is why it is so useful to many different types of traders.  Our technical staff has spent years adding features, building example models, and answering complex user questions.  But that's a lot to remember and that's why we often consult nstsupport.wardsystems.group.com to answer your questions.  The beauty of the new site is that you can search the entire site in one pass rather than performing separate searches on different web pages.
LIVE POST ON FORUM
If you want to get in touch with fellow NeuroShell Trader users, the new support site lets you publish your comments immediately.  You no longer have to wait for the webmaster to activate a post.
The first time you visit the site, look for the Register link on the left side of the page.  Once you submit the registration form, you'll receive an E-mail that asks you to click on a link to activate your account.  That's all there is to it.
Get the discussion going. Post now!