A workspace is a collection of all the currently loaded charts and their position on the screen. Saving a workspace allows you to save the work that you have done, and to continue work on that workspace or view the charts in the workspace with new data, by opening it at later time.
Select

Save Workspace '

from the

File

menu. This activates the file dialog box from which you can enter a file name for the workspace.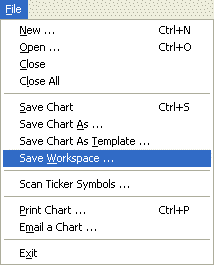 Notes:
If one or more of the charts being displayed has not been saved previously, you will be prompted to enter a filename for each of the unsaved charts.