Printing a chart allows you to print the current chart page.
Following the procedure below activates the print dialog box from which printing options are selected.
Select the chart page that you want to print.
Select from the toolbar or

Print Chart

from the

File

menu.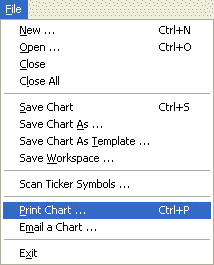 Notes:
If more than one chart is being displayed, make sure the chart you wish to print has focus. To give a chart focus, position the cursor over the chart window and press the mouse button.
If more than one chart page exists on a chart, make sure the chart page you wish to print is the selected chart page. Refer to Viewing a Different Chart Page for more information.