June 27, 2017
IN THIS ISSUE
NEW NEUROSHELL TRADER SUPPORT SITE
We are proud to offer a new gold mine of technical support information for NeuroShell
Trader users. While we have been busy adding more information to our existing
technical support web site www.ward.net for many years, it was not easy to search the
entire site in one pass. Also key information from the Trader and Add-On help files was
not included in the web site. We decided there had to be a better way.
The answer is: nstsupport.wardsystemsgroup.com
IMPROVED, FASTER SEARCHING
Now you can explore all of our technical support resources for NeuroShell Trader in a
single search that includes the following resources:
Trader User Manual
Examples
Tips & Techniques
Indicators User Manual
Example charts published in TECHNICAL ANALYSIS OF Stocks & Commodities
Newsletters
Videos
Programmer references
Below are the results for a search on "forex trading". Note the different resources that appear in the results.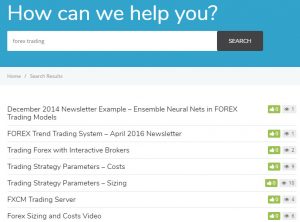 INSTANT UPDATES
The most recent articles appear on the sidebar, along with articles users consider to be
the most helpful, and the most popular articles. You can even vote for your favorites!
NEW FORUM
We're starting a new forum where posts appear as soon as they are transmitted by
users. We hope immediate feedback from other users will generate more traffic.
PROGRAM DOWNLOADS STILL ON WWW.WARD.NET  For security reasons, you still have to log in with your Trader serial number and password to download the latest release of NeuroShell Trader.