February 5, 2019
IN THIS ISSUE
IS INTERMARKET ANALYSIS MISSING FROM YOUR TRADES?
NEW FORUM MAKES IT EASIER TO CHAT
~~~~~~~~~~~~~~~~~~~~~~~~~~~~~~~~~~~~~~~~~~~~~~~~~~~~~~~~~~~~~~~~~~~~~~~~~~~~~~~~
IS INTERMARKET ANALYSIS MISSING FROM YOUR TRADES?
~~~~~~~~~~~~~~~~~~~~~~~~~~~~~~~~~~~~~~~~~~~~~~~~~~~~~~~~~~~~~~~~~~~~~~~~~~~~~~~~
DO YOU CHECK OTHER MARKETS BEFORE YOU TRADE?
Many traders check the futures markets before the stock market opens to assess market
direction.  However, it's not always a simple correlation between the two.  NeuroShell
Trader can make it easy to add a multi-dimensional scrutiny of different markets
by using neural network predictions.  This eliminates the need to come up with
specific rules for this type of analysis.
In our example we built a prediction for the stocks QQQ and OneQ with indicators
based on the Nasdaq 100 E-Mini futures contract.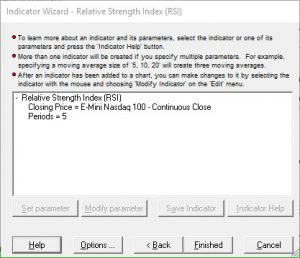 When working with intermarket analysis, it is easier if you first add the other
data stream to the base chart.  Go to the Insert Menu and select Other Instrument
Data. The first screen allows you to choose markets different from the one for the
base chart (the one you want to trade).
When you add an indicator to the chart, you can then substitute the E-Mini Nasdaq
100 close for the default value of the stock close. We made the same substitution
for all of the indicators used in the prediction.
Note that we mixed indicators from the Price Momentum, Volume, Change and Regression
indicator categories to cover a broad range of data patterns.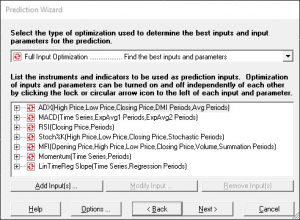 However, selecting more than 5 or 10 inputs to a neural net can lead to models that
overfit to the training data but don't perform well in the future.
If you look at the Optimization tab in the prediction wizard, there is a setting
that can prevent overfitting.
Under the "Optimization parameters" section you can set a maximum value for the
number of inputs.  In the example we set the limit to 5 from a selection of 7 inputs.
This means that the optimizer not only selects the best parameters to calculate
the indicators, but also selects the best indicators and limits the number to 5
or less indicators.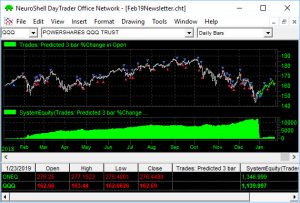 The chart displays the results of the intermarket analysis prediction.
Click here to download a copy of the example chart, which you should customize for changes
in market conditions or different securities.